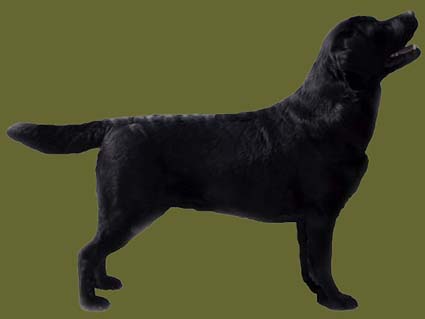 OM EXQUISITO'S / ABOUT US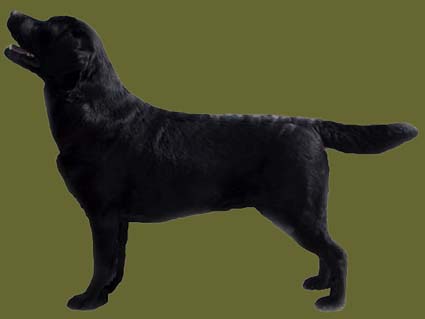 Velkommen på vores hjemmeside.
Teresa Fernandez
Bredekærs Vænge 209
2635 Ishøj
Tlf.: +45 2023 7778
mail@exquisitos.dk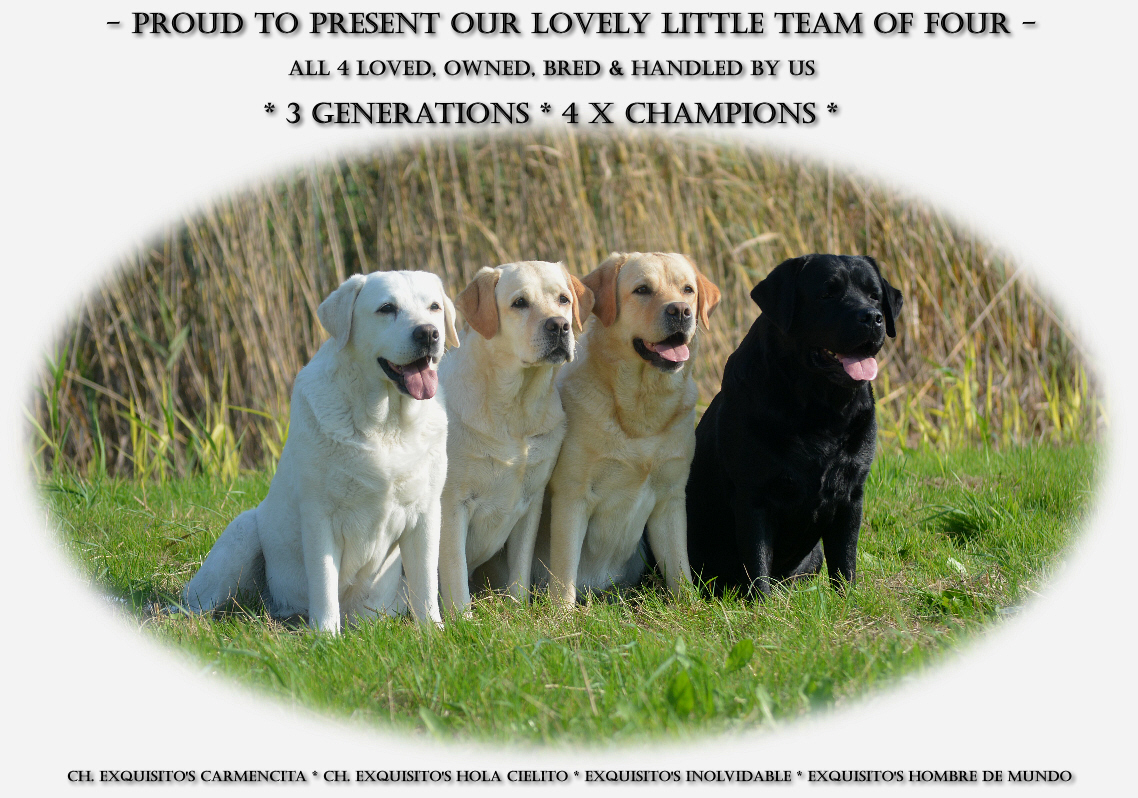 Vores husstand som består af vores 4 dejlige hunde Anna, Cielo, Viva & Falcon er 3 generationer og bor indendørs i huset sammen med os, og er en naturlig del af familien.
Vi bor i naturskønne områder med let til både strand og skov, hvor vi har mulighed for at stimulere vores hunde både fysisk og mentalt på de daglige gåture.
Først og fremmest er vi en lille hobby kennel. Vi har opdrættet Labrador Retriever siden 1998, og vi planlægger kun 1 kuld hvalpe hvert andet til tredje år. Hvert kuld er opdrættet med den intention, at beholde en hvalp for at fortsætte vores linier og opdræt. Vi deltager på udstillinger, markprøver og af og til på jagt.
Fordi vi er en hobby kennel, er vi meget fokuseret på, hvilke familier vores hvalpe kommer til.
Det har og vil altid være vores mål, at opdrætte en sund Labrador med det rette temperament og intelligens og samtidig har vi også altid værdsat at avle den racetypiske Labrador med det rette eksteriør og viljen til at arbejde og derved få en skøn følgesvend.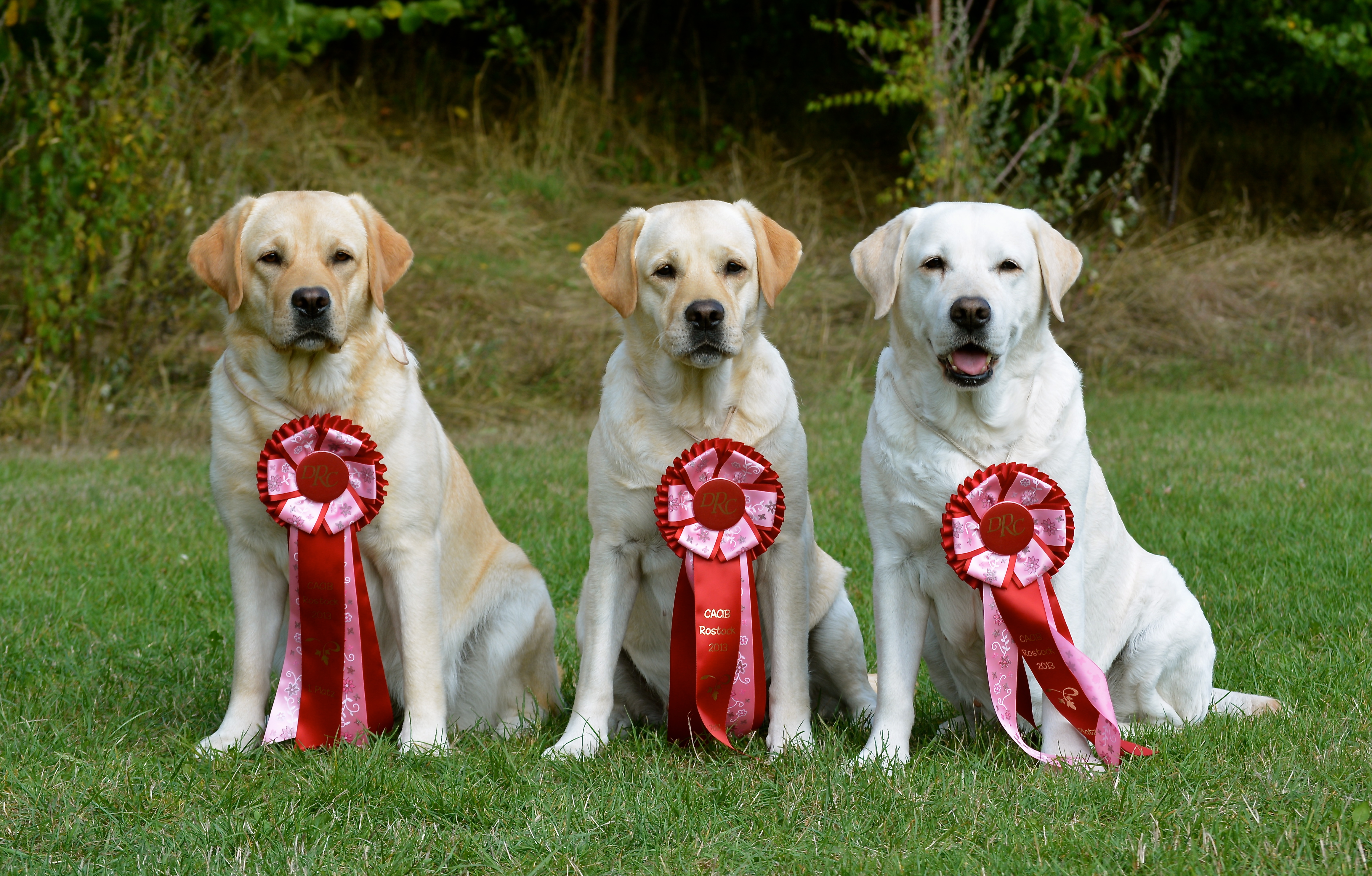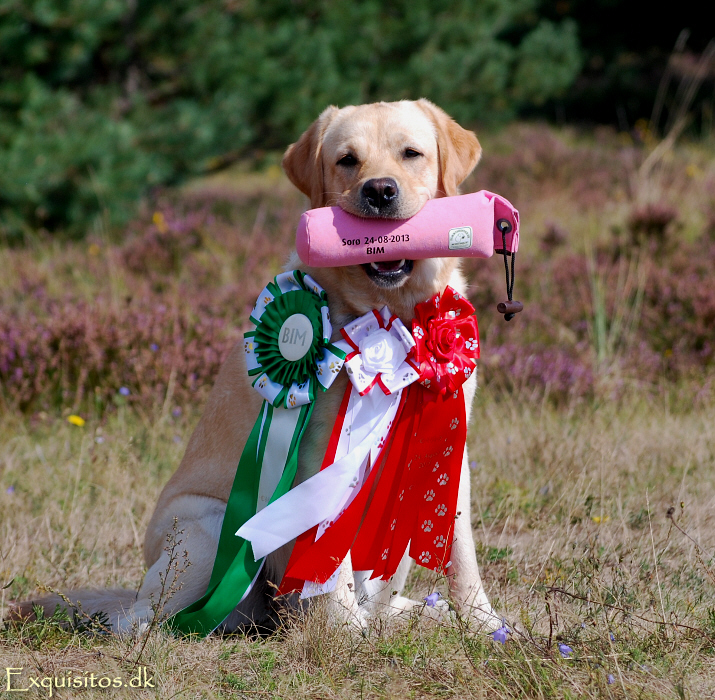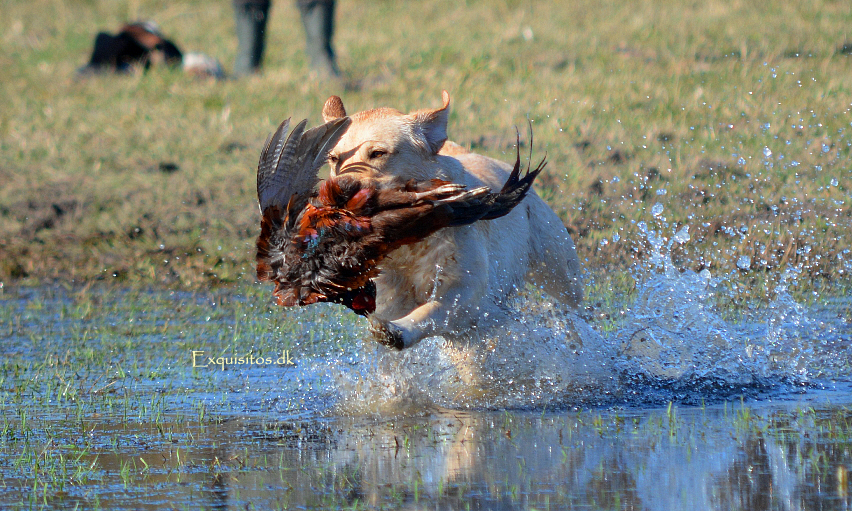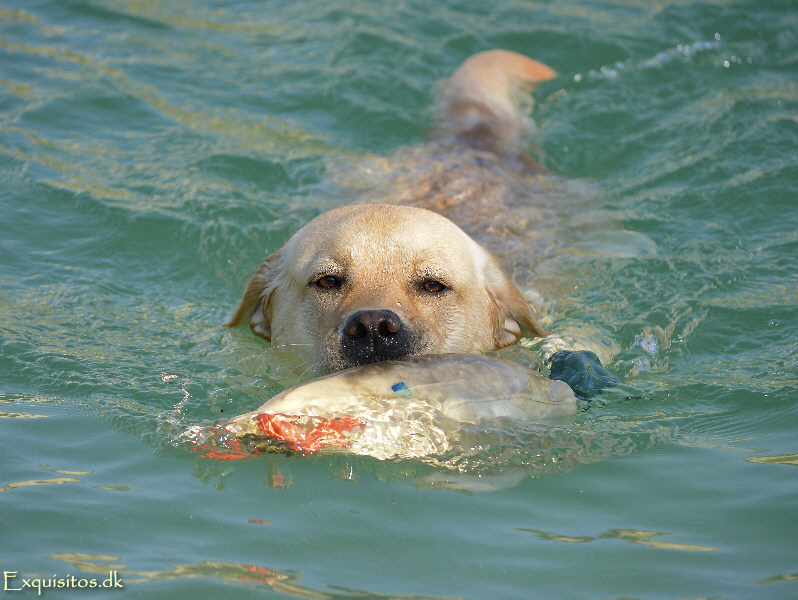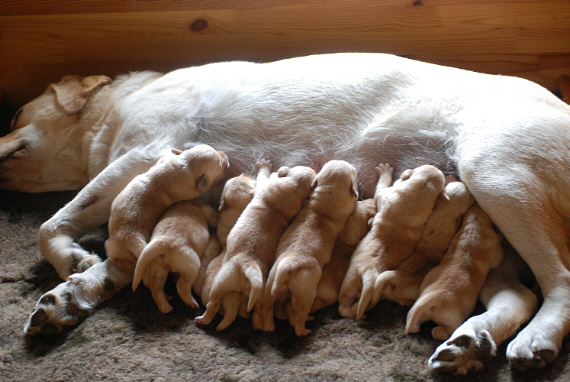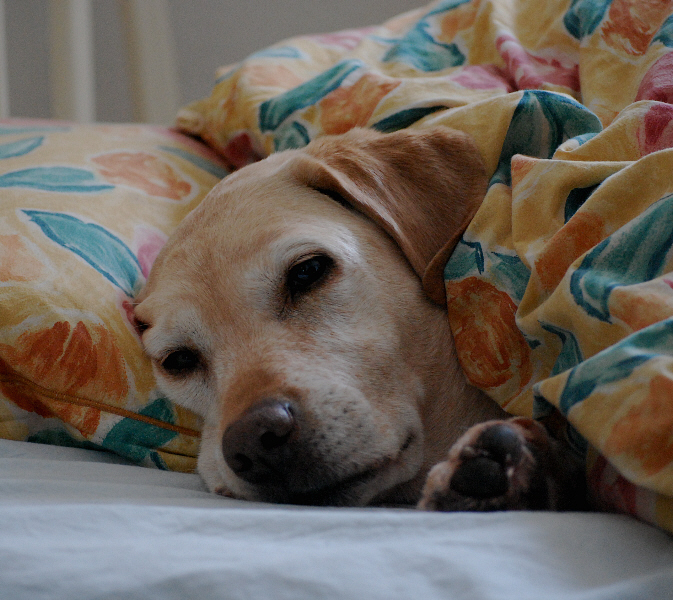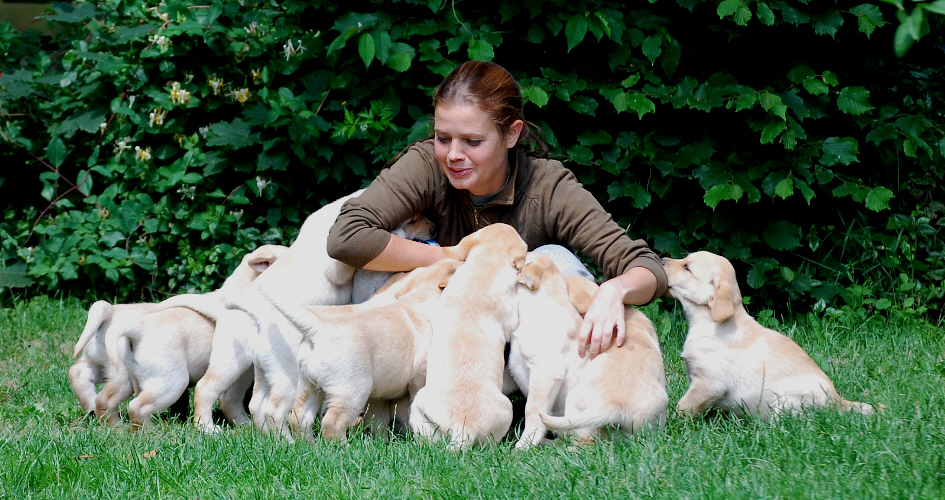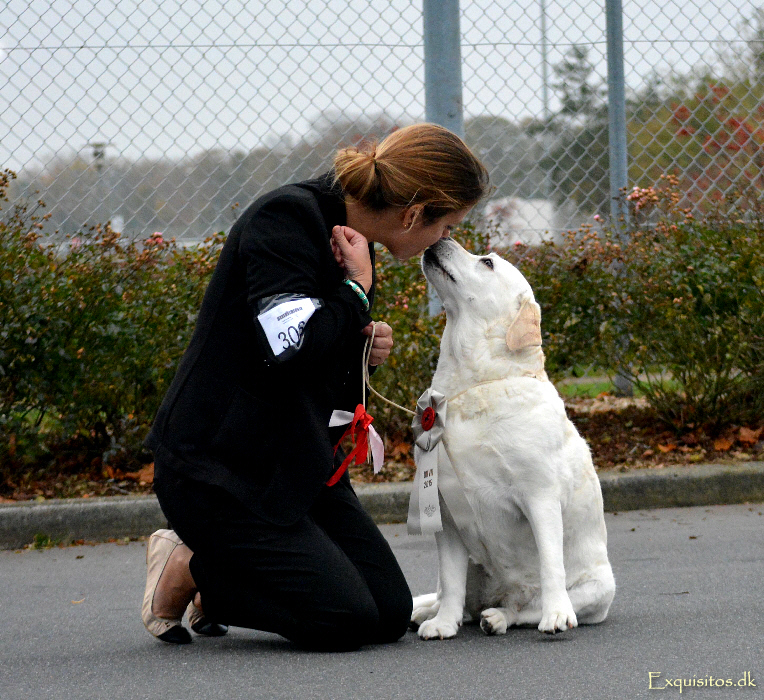 Vi gør meget ud af at give vores hvalpe den allerbedste start på livet. De bliver født og vokser op i huset med os, ligesom vores øvrige hunde deler hjem og sofa med os.
Vores hvalpe tilbringer også en stor del af tiden i haven - så meget som vejret tillader det - hvor de muntrer sig med legetøj og små forhindringer.
En Labrador fra os får masser af kærlighed og socialisering fra dag et. De bliver (for)kælet af os og får masser af besøg af både børn og voksne, ligesom de også bliver introduceret til vildt og skud inden de rejser hjemmefra.
De første 8 uger af hvalpenes liv, er de meget skrøbelige og modtagelige - vi lægger stor vægt på at sørge for at socialisere, forme og gøre hvalpene rustet til deres nye hjem. Vi præger dem på hverdagsting så som støvsuger, støj, musik etc.
Vi ønsker for vores hvalpe, at de tilbydes en aktiv og indholdsrig hverdag i deres ny familier og fortsætter et liv som højt skattede familiemedlemmer.
Vi opdatere ugentlig hvalpebilleder af vores kuld på vores hjemmeside, så kommende familier også kan følge dem hjemmefra.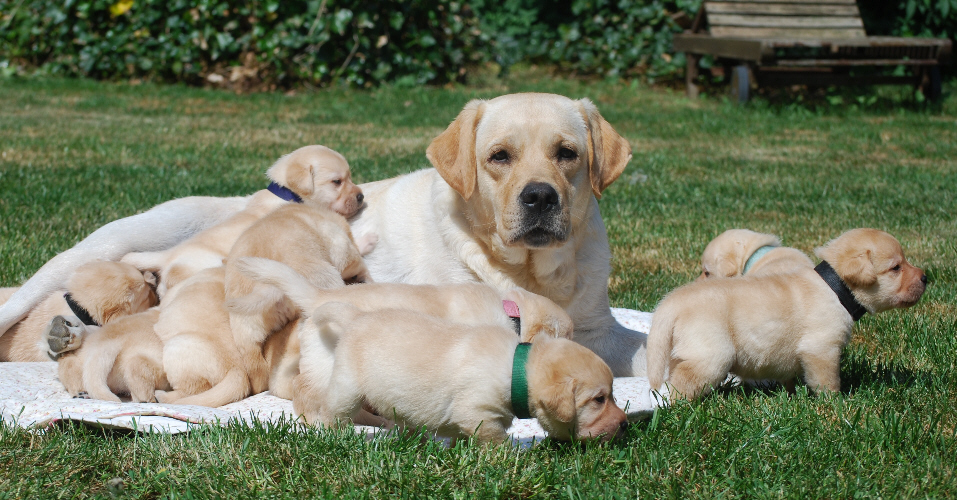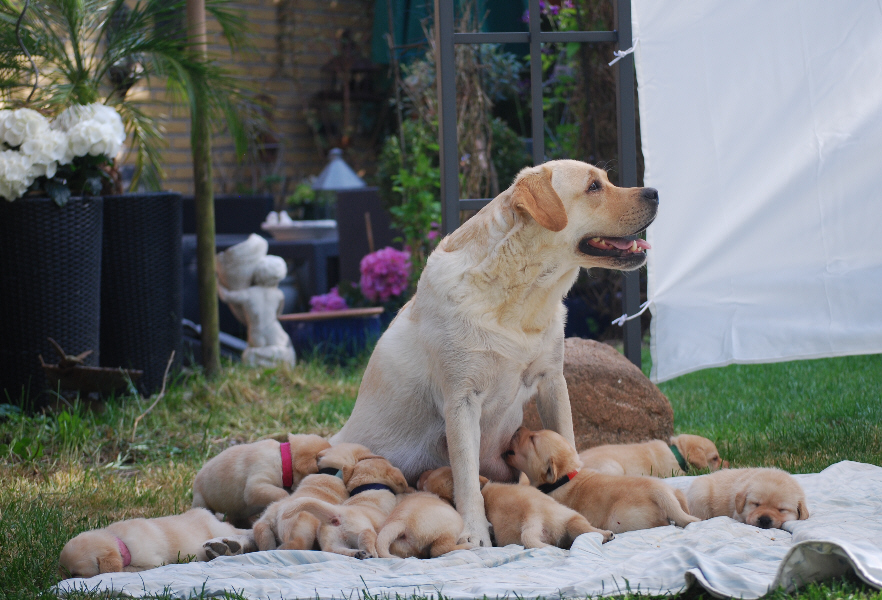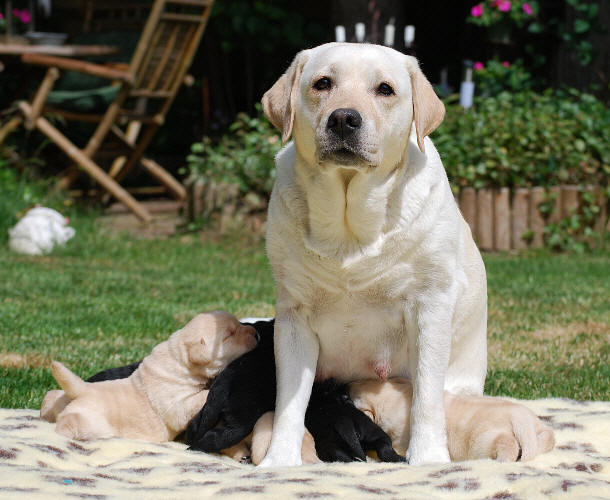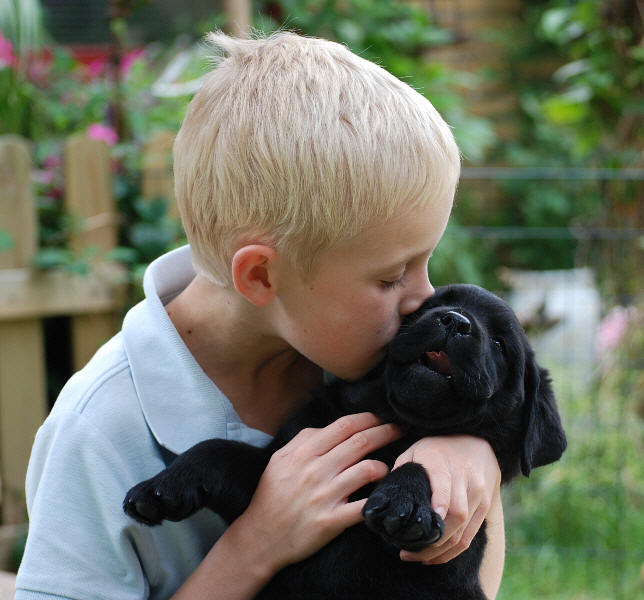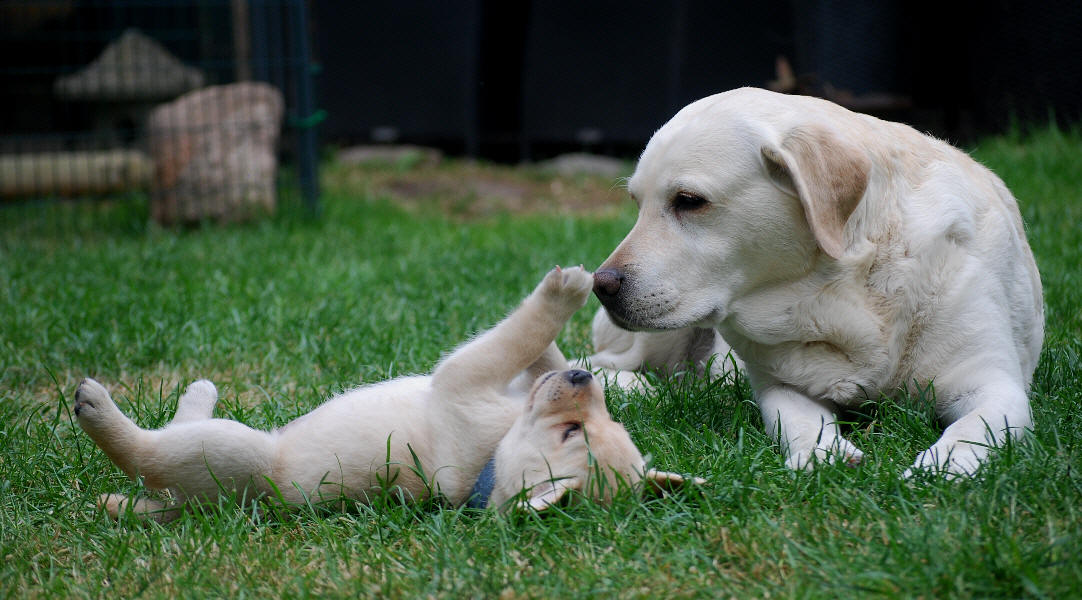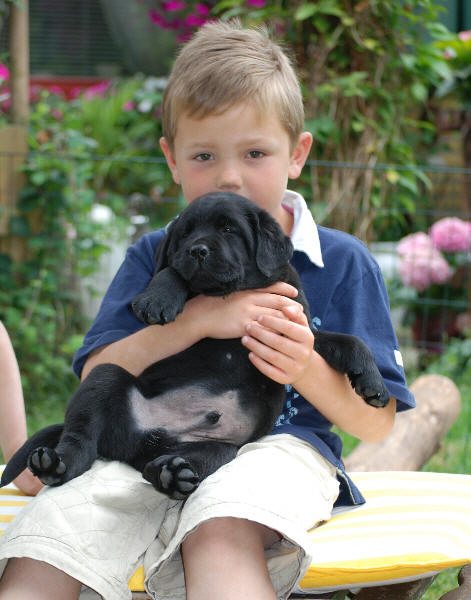 Når hvalpene 8 uger gamle rejser herfra, er de vaccineret, chipmærket, sundhedskontrolleret og har fået pas og er registrerede i DKK og Dansk Hunderegister samt har fået ormekur 3 gange. En fin mappe med skriftlig vejledning m. m. og billeder af familien følger naturligvis også med.
Hvalpene betyder alt for os, og vi vil være tilgængelige med spørgsmål, råd og vejledning i hele hundens levetid.
Hvis du værdsætter netop måden vi har vores hvalpe og hunde på og kan tilbyde en hund fra os et dejligt liv med megen kærlighed, så er du velkommen til at kontakte os på:
eller
+45 2023 7778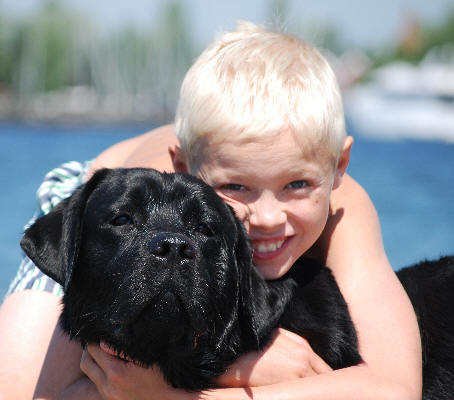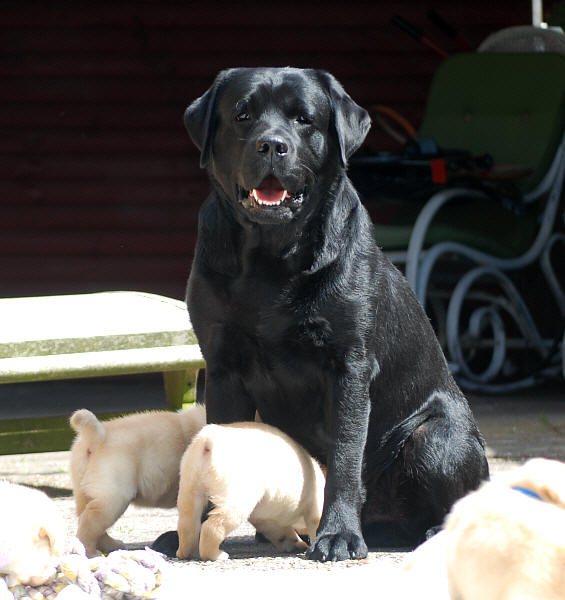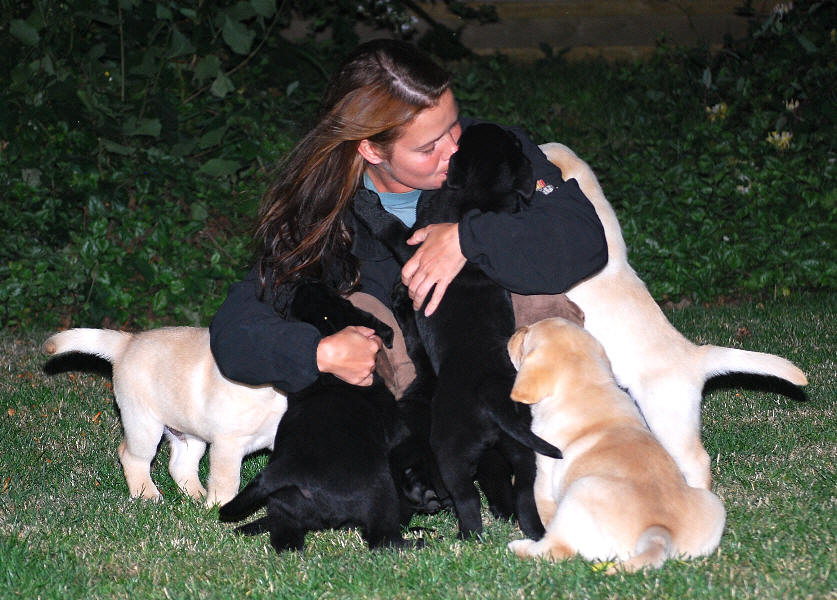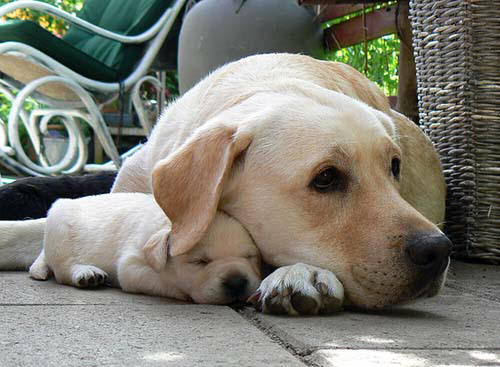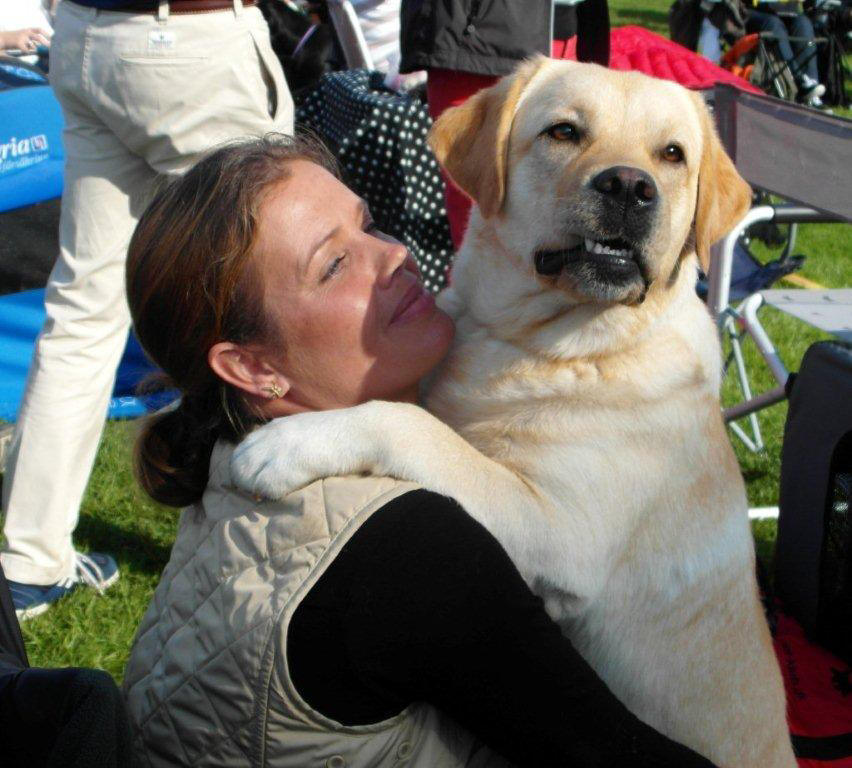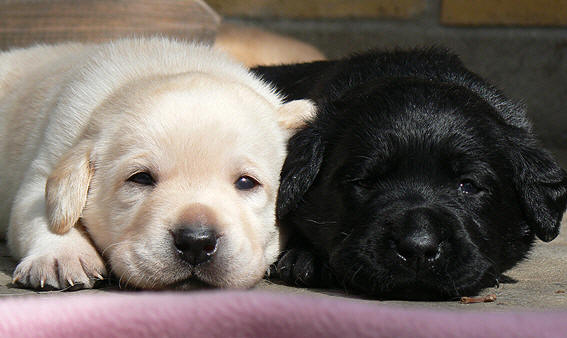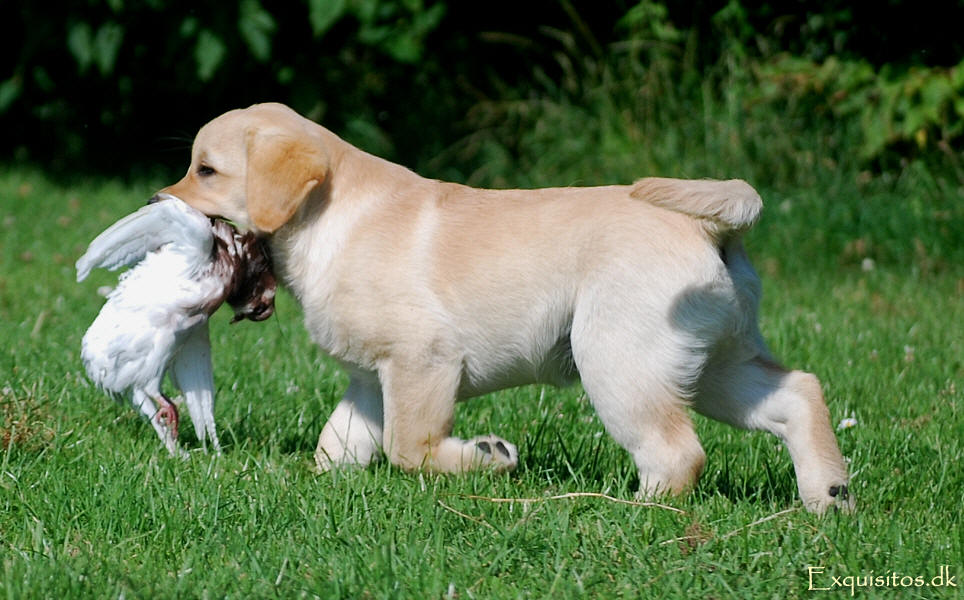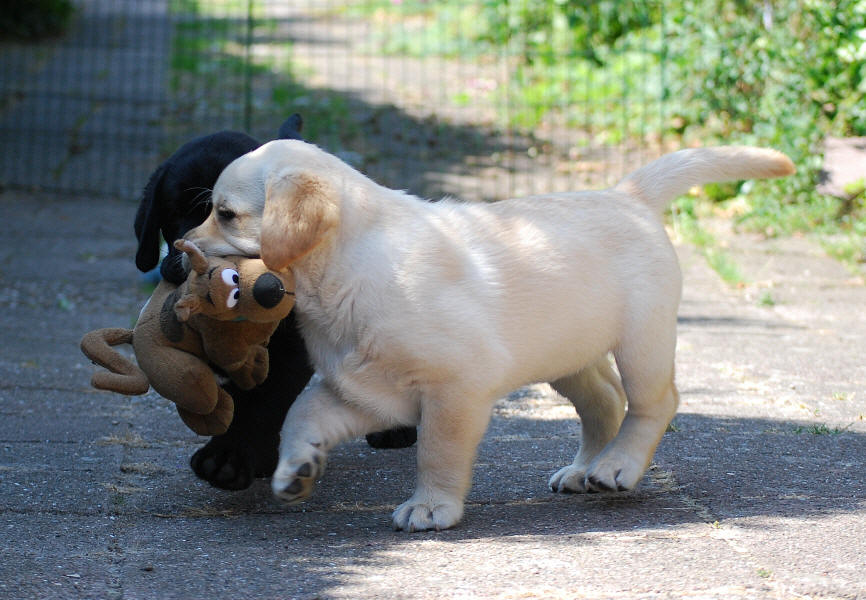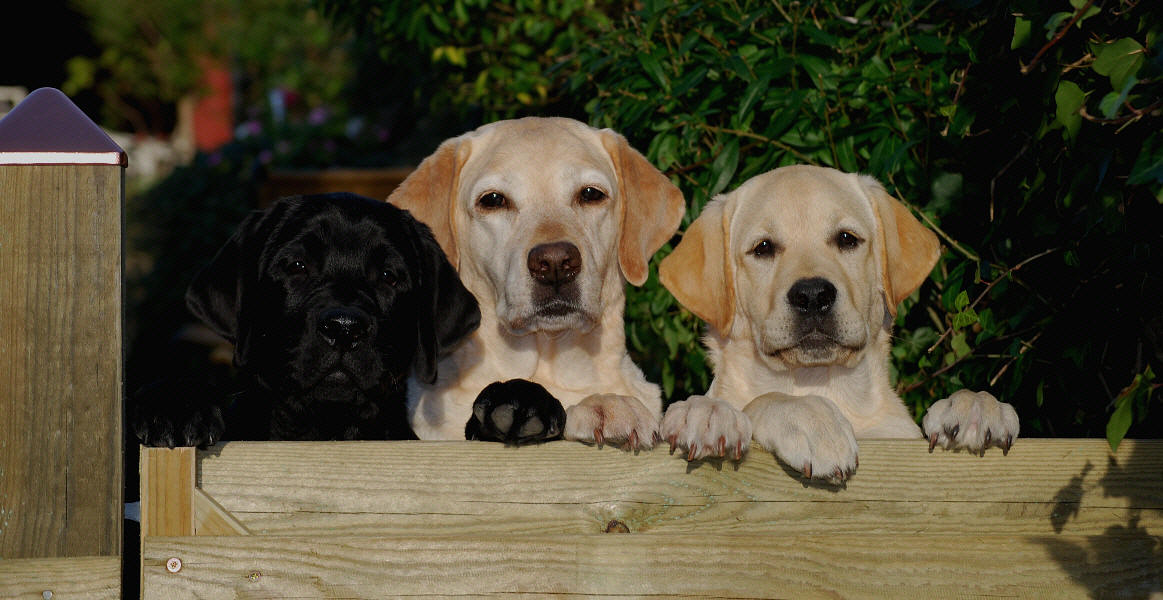 Se mere information om hundene og vores opdræt på de forskellige sider.
Vi er medlem af:
DKK - Dansk Kennel Klub
DRK - Dansk Retriever Klub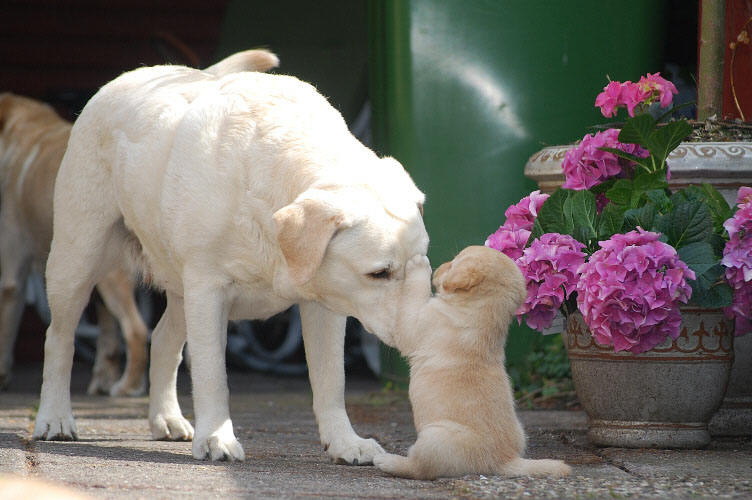 First and foremost we are a hobby kennel. We only plan one litter every second or third year - Every litter we have is bred with the intention of keeping a puppy to continue our lines and build on the dogs we have.
Because we are a hobby kennel, we are extremely particular as to where our puppies end up.
It has always been our goal to produce healthy Labradors with the temperament and intelligence to become wonderful companions. At the same time we have always planned breedings to maintain the handsome, sturdy Labrador type with the will to work.
We like to believe that our puppies are given a great start to life. For the first 8 weeks of life, puppies are very vulnerable and also very impressionable - because of this, much of what we do with the puppies is shaping, influencing and preparing them for the dogs they will become.
We care about every puppy that leaves our home and want every family to be successful in raising their puppy. Therefore, we make ourselves available at any time for any questions, advice or trouble-shooting for the life of the dog.
Exquisito's Labrador puppies are given love and socialization from day one. They are born and live inside the house with us. We post updated puppy pictures on our website at least once a week.
Labradors are a wonderful, devoted breed, very driven to please, eager to learn, loyal, loving and smart. They are considered the perfect family dog.
But...lots of work goes into molding that perfect family companion - it doesn't come by itself.
I am a member of the:
DKK - Danish Kennel Club
DRK - Danish Retriever Club
If you are interested in a Exquisito's Labrador please write us an email.
OUR HISTORY
Exquisito's had its' start in 1994 with our first pet Labrador Juni's Fanta "Emma" who led us to become involved in many aspects of owning, training, showing and breeding our beloved Labardors.
Emma also became our foundation bitch and the mother of our first litter in 1998. In 2000 Emma had her second and last litter. From this litter we kept Exquisito's Buena Suerte Paisana "Piña".
Our Piña became the mother of 3 healthy & lovely litters in 2003, 2005 and 2006 - our C,D & E-litter. She produced champions in every of the 3 litters - proud mother of 5 Champions in total:
* Multi Winner & Champion and Top Winner in 2008 & 2009 Exquisito's Carmencita "Anna" *
* Multi Champion & Top Winner in 2005 Exquisito's Chocolate Blanco "Blanco" *
* DKCH SECH(U) DEVDHCH Exquisito's Diseño Español "Sveske" *
* DKCH Exquisito's Demasiado Caliente "Tango" *
* DKCH SECH(U) Exquisito's Eminente "Enya" *
We kept a girl after our Piña from our C-Litter namely Exquisito's Carmencita "Anna".
Our Anna turned out to be a "Once In a Lifetime" dog that has given us so much and made us so proud.
Multi Winner & Ch. Exquisito's Carmencita "Anna" is the proud owner of no less than 25 titles.
She is also the proud mother of 4 Champions from the 2 lovely and healthy litters she has had in 2007 and 2009, our F & H-Litter:
* DEVDHCH DEVDHJCH DRCCH DRCJCH Exquisito's Futuro Estrella "Pilgrim" *
* INTCH(U) DKCH SECH(U) DEVDHCH Exquisito's Hombre De Mundo "Falcon" *
* DKCH SECH(U) DEVDHCH Exquisito's Hola Cielito "Cielo" *
* DKCH Exquisito's Hasta La Vista "Charlie" *
We kept a boy Exquisito's Hombre De Mundo "Falcon" and a girl Exquisito's Hola Cielito from our H-Litter and both of them are today Champions in various countries.
Our Cielo had her first litter in 2012 - our I-litter, also a very healthy and lovly litter and she too is the proud mother of 3 Champions:
* DKCH SECH(U) DEVDHCH Exquisito's Inolvidable "Viva" *
* DKCH & Top Winner in 2015 Exquisito's Inocente "Zigi" *
* INTCH(U) Exquisito's Icono *
We have only bred 56 Labradors in total since 1998 and all of them are bred from our one and only bitch-line so we are very proud of the 12 champions we have produce since then
and among them Top Winning Labrador in 2005, 2008, 2009 and 2015.
This was a bit about us. Please check out more about our dogs and their offspring on the differente pages on our website - Enjoy!